Burundi's government is forcing teachers, nurses and farmers in some of the country's poorest provinces to make what it calls 'voluntary contributions' to state coffers.
A list compiled by the Ministry of the Interior, and obtained by IBTimesUK, shows how a teacher earning FBU17,722 (£8.31) per month must pay FBU2,000 (£1) of their monthly salary under the new payment scheme. This is in addition to existing taxes on goods and services and income.
The government has said that the payments are voluntary, and intended to help pull Burundi out of an economic crisis that has been ongoing for over 20 months, but residents have reported being threatened if they don't pay.
They also complain that the money is not being used to help alleviate Burundi's economic crisis but instead being spent on projects that are not needed.
Janvier Bigirimana, a lawyer and general secretary of the Forum for Awareness and Development (FOCODE) said that the practice has been ongoing in a number of areas, including in north-west Cibitoke, central-east province of Ruyigi and the southern Makamba province.
"For us, this is a very serious situation that is spreading in other provinces," he said, in reference to a list, which is signed by the CNDD-FDD's local governor of Ruyigi Province Abdallah Hassan and dated 13 March.
The document outlines the various contributions expected of local residents, according to their job and social standing, and requires money to be paid into a Credit Bank of Bujumbura (BCB) account.
Teachers in Ruyigi, for example, who on average earn between FBU17,722 (£8.31) and FBU86,450 (£40.5) would be expected to contribute FBU2,000 (£1) per month while a nurse who earns a similar wage has to donate FBU5,000 (£2.50). NGOs are expected to contribute FBU15,000 (£7) monthly.
The average salary of a working person in the capital is about £64, according to local organisations.
"This list also mentioned that these contributions are 'voluntary' but in principle, we all know that if we don't adhere to this initiative, we face terror and won't be able to gain access to certain public services, which is extremely dangerous for a country that has been thrown into a very critical economic situation," said Bigirimana.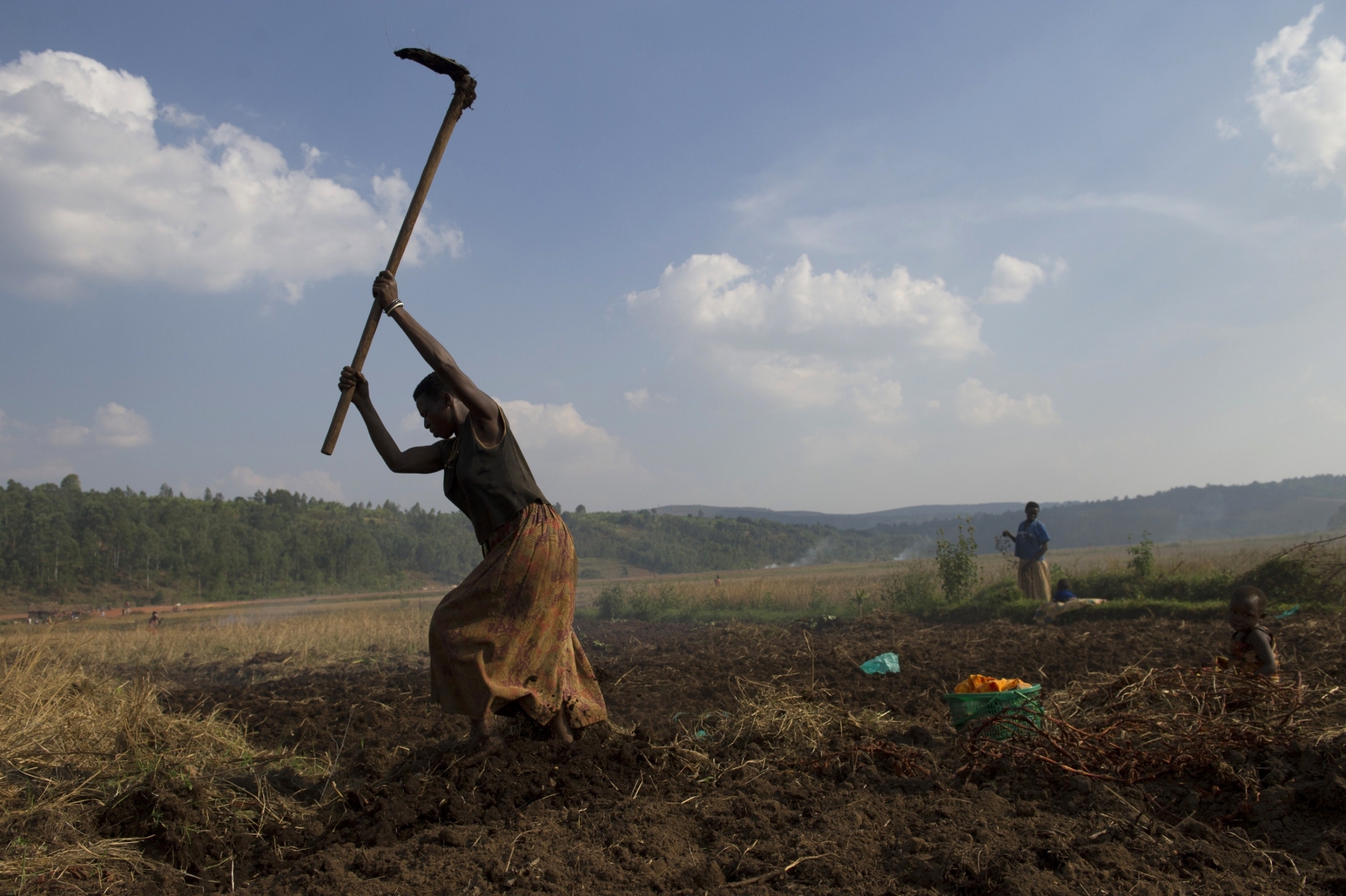 Several residents spoke of fears of reprisals if they don't agree to pay, and one was told that if he did not pay, he could join the 401,428 refugees who have fled the country.
"Today (the ruling party) is imposing these measures that are bringing the Burundian population into misery and destitution. It is an unworthy behaviour that deepens the prevalent insecurity of the population, because those who are not able to pay these forced contributions are accused of being opponents. They face arbitrary arrests, torture, or even illegal and abusive detention," Bigirimana said.
RFI reports that in Cibitoke, the population is forced to contribute towards the construction of the local headquarters of the CNDD-FDD party – even if they are not members of the party.
According to SOS-Burundi news site, the provincial secretary of the CNDD-FDD in Cibitoke, Alfred Nsekambabaye, said the contributions were essential because "the headquarters are for the ruling party and consequently belong to the national patrimony".
Bigirimana warned that, as the Interior Ministry in October last year withdrew permits from civil and human rights groups – including FOCODE after accusing it of "tarnishing the country's image and sowing hatred and divisions among the Burundian people" – there are no independent organisations on the ground capable of monitoring abuses.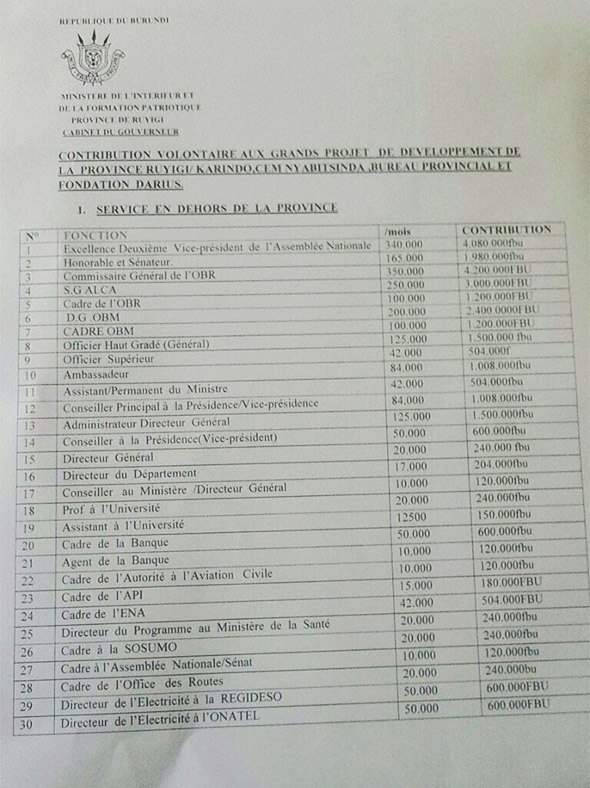 "Because there are no voices arguing against these practices, the population has no choice but to accept these measures as if they were normal," he said.
Civil servants have not only seen their income dwindle because of the government's cuts to public spending, but they also face a devaluation of the local currency coupled with a surge in price of staple products.
"They can no longer afford basic food needs. Today, the population is confronted with widespread famine," Bigirimana explained.
Coupled with a malaria epidemic, famine has struck several provinces of Burundi for the past several weeks. Last month, the International Development Association (IDA) – through the World Bank – approved funding of $25m to improve food security, months after the first reports of hunger-caused deaths emerged from a number of localities.
Burundi's crisis has killed thousands of people and pits supporters of President Pierre Nkurunziza against those who say that his re-election in July 2015 for a third term violated the nation's constitution.
IBtimes