Hurricane Irma is blasting up the west coast of Florida after buffeting the city of Miami, with dangerous flooding along long stretches of coast.
It has been downgraded from category three to one but still has maximum sustained winds of 85mph (137km/h).
More than 3.4 million homes in the state are without power, with parts of the city of Miami are under water.
Three storm-related deaths have been reported and several areas have brought in curfews.
Irma cut a devastating track across 10 Caribbean countries and territories, killing at least 28 people there.
President Donald Trump has approved a major disaster declaration and emergency federal aid for Florida, describing the hurricane as a "big monster".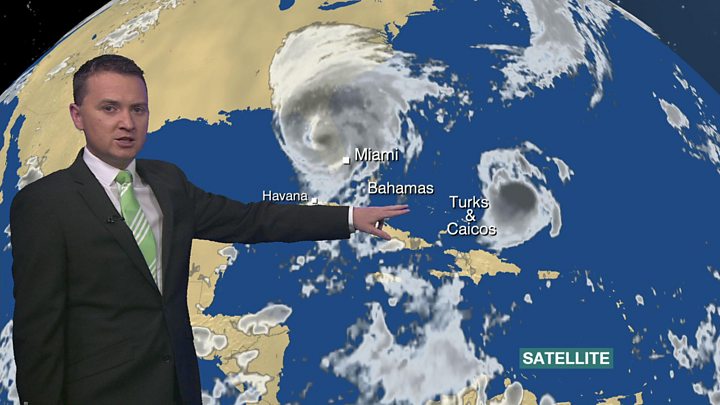 Where is the storm now?
At 06:00 GMT, the centre of the hurricane was about 25 miles (40km) north-east of Tampa, the National Hurricane Center (NHC) said.
Some 3m people live in the Tampa Bay area. The region has not been hit by a major hurricane since 1921.
Irma is expected to weaken into a tropical storm over far northern Florida or southern Georgia later on Monday but first its centre will continue to move over the western Florida peninsula, the NHC said.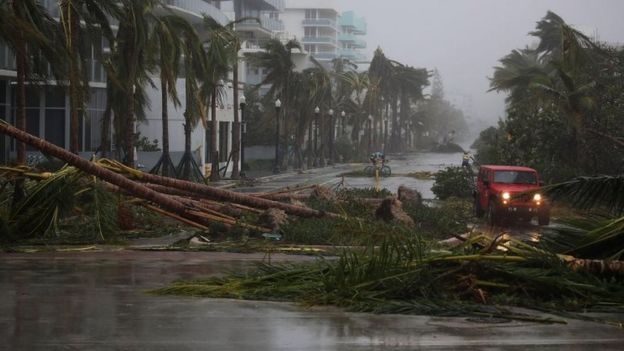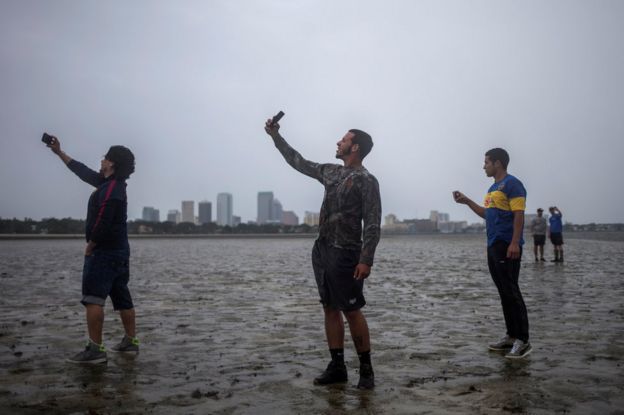 Storm surge warnings are in effect for:
The South Santee river southward to Jupiter Inlet
North Miami Beach southward around the Florida peninsula to the Ochlockonee river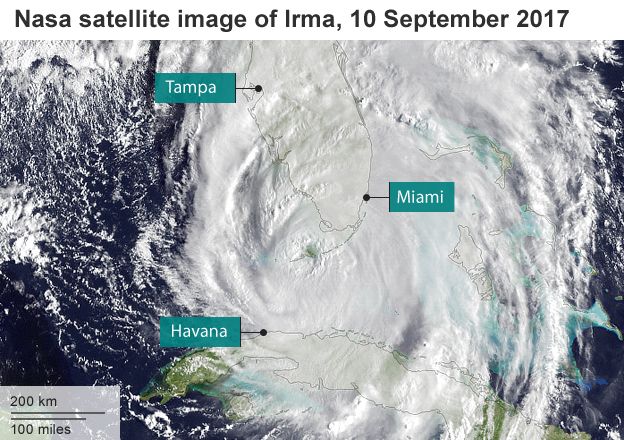 How did it arrive in Florida?
Irma made landfall on Marco Island off Florida's west coast at 15:35 local time (19:35 GMT) on Sunday, with winds of up to 120mph.
After leaving the coast of Cuba, Irma had barrelled through the Florida Keys, a chain of low-lying islands to the south, on Sunday morning.
The whole of the southern tip of Florida has seen high winds, driving rain and storm surges.
About 2ft of water has been seen in Miami's financial district, where one major street resembled a river, but the worst damage is expected on the west coast. Two cranes have collapsed in high winds in the city.
How have residents felt the impact?
Media reports say a man was killed on Saturday in the Keys when his truck crashed into a tree as the outer bands of the storm arrived.
There are fears of further casualties in the Middle and Upper Keys, the Miami Herald reports.
Some 6.3 million people in the state were told to evacuate before the storm.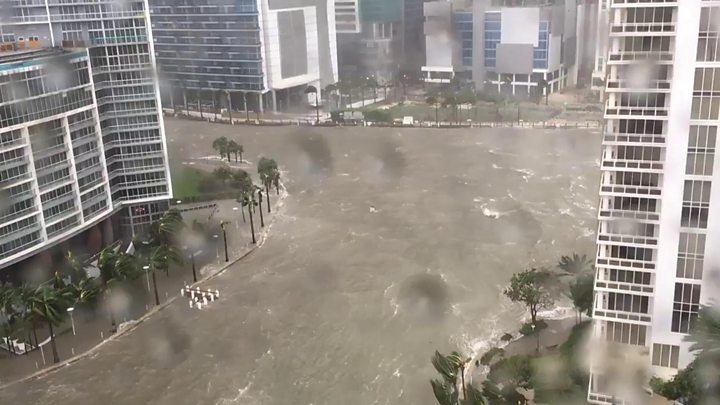 As many as 4.4 million homes and businesses have lost power, Reuters news agency reports, quoting Florida Power & Light and other utilities.
There is major disruption to transport, with Fort Lauderdale-Hollywood International Airport and Miami International Airport closed for Monday.
Amid fears of debris and reports of looting, curfews have been imposed in areas such as Miami-Dade County.
Which other areas have already been hit?
Irma is the most powerful Atlantic storm in a decade, and has already caused widespread destruction on several Caribbean islands:
Cuba: Officials have talked of "significant damage", without giving further details, but no casualties have been reported. Electricity is out across the capital, Havana
St Martin and St Barthelemy: Six out of 10 homes on St Martin, an island shared between France and the Netherlands, are now uninhabitable, French officials say. They said nine people had died and seven were missing in the French territories, while four are known to have died in Dutch Sint Maarten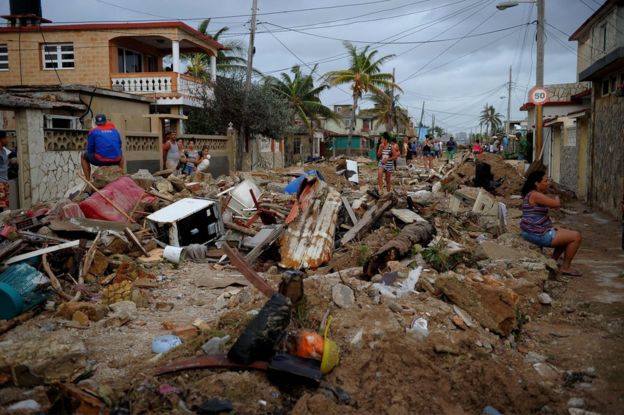 Turks and Caicos Islands: Widespread damage, although extent unclear
Barbuda: The small island is said to be "barely habitable", with 95% of the buildings damaged. Antigua and Barbuda Prime Minister Gaston Browne estimates reconstruction will cost $100m (£80m). One death has been confirmed
Anguilla: Extensive damage with one person confirmed dead
Puerto Rico: More than 6,000 residents of the US territory are in shelters and many more without power. At least three people have died
British Virgin Islands: Widespread damage reported, and five dead
US Virgin Islands: Damage to infrastructure was said to be widespread, with four deaths confirmed
Haiti and the Dominican Republic: Both battered by the storm, but neither had as much damage as initially feared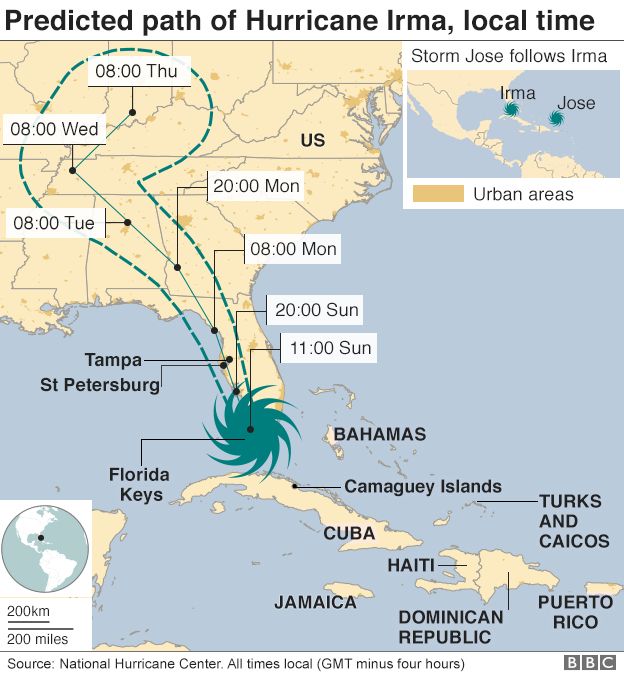 ---
BBC